Kobujutsu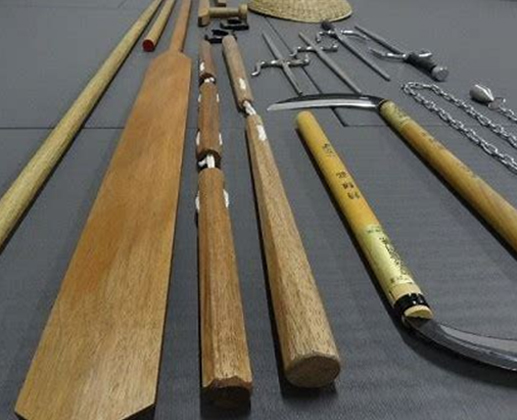 Okinawan Kobujutsu – A Complete System
While a majority of today's franchise martial arts studios offer some form of weapons' training in the programs, these trainings are "piece meal" add-ons designed to attract a wider audience and to keep students from getting bored. And much like their base program, there usually isn't much substance in their weapons program beyond fancy baton twirling, flips and other gymnastic type moves.
Our Kobujutsu program is steeped in rich history, forged in a time when the need for an effective life-protection system was necessary.
Since Hanshi Hokama's early training years included both Karate and Kobujutsu instruction, he continued that tradition when he opened his own dojo. Formally, Hanshi Hokama adopted the weapons' kata and style taught to him by his grandfather, Tokuyama Seiken (1900-1958), who was a student of Oshiro Chojo (1888-1935).
And while times have changed and the need for such extremes no longer exists, we still approach our trainings with the same level of respect and dedication. Unfortunately, very few of today's martial arts programs honor this level of commitment in their trainings. This is what elevates our program above the rest.
Benefits of Proper Kobujutsu Training
All of our trainings are built upon a strong technical base which will naturally improve proper body posturing, strength, stamina, flexibility, range of motion, relaxation, mental focus and more. As with any weapon, a high regard for respect of the implement and the safety of others is continually emphasized and practiced. And like our empty hand trainings, the student will learn practical application of the various implements against the other implements, just as they were intended. While "fancy and flashy" are great for public demonstrations to woo the crowd and a must for tournament play, we have the honor and privilege of being part of a unique inheritance and the responsibility to uphold the integrity of past generations and pass it along for future generations.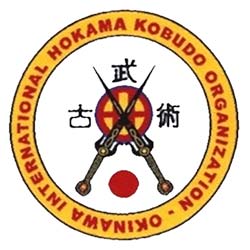 About the IHKO Kobujutsu Program
The International Hokama Kobudo Organization (IHKO) was formed by Dr. Tetsuhiro Hokama, 10th Dan, Hanshi, in order to promote and preserve the old ways of Okinawa Kobujutsu (Ancient Warrior Arts of Okinawa). Dr. Hokama is a world-renowned researcher and historian on Okinawan martial arts and is the founder and curator of the Okinawa Prefecture Karate Museum, the world's first museum dedicated to preserving the culture of the Okinawan people and indigenous martial arts of Okinawa. The International Hokama Kobudo Organization is a separate organization from his International KenShiKai Organization that allows other systems and styles to further their studies in a legitimate Kobujutsu system, while maintaining their current base style.